Tuesday, July 17, 2012
Vizcaya Museum & Gardens is many things: a museum, a fine example of lavish 20th-century residential spirit, a diplomatic retreat in the heart of Miami, and a National Historic Landmark.

Vizcaya was built in 1916 by wealthy industrialist Charles Deering, a top-level executive with the International Harvester Company, producer of agricultural equipment. Deering built the European palace-inspired mansion as a winter retreat home to take advantage of Miami's temperate climate. Now, as an accredited museum with a main house, ten acres of formal gardens, and a rockland native forest (called a hammock), it is host to more than 170,000 visitors every year, including such dignitaries as Queen Elizabeth II, Pope John Paul II, and the King and Queen of Spain.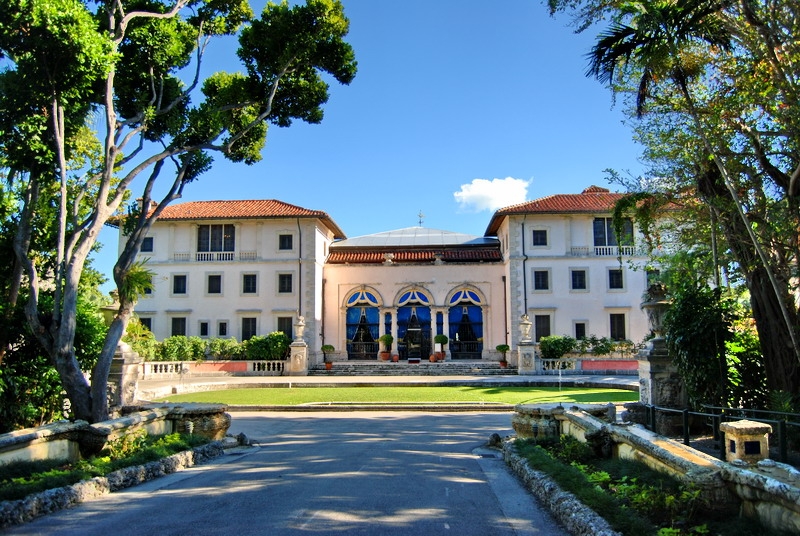 Though there are no Museum-sponsored special events scheduled at Vizcaya until fall of 2012, there is still plenty to see and experience.

Collections and Archives

One of the most obvious of Vizcaya's collections and archives is the Main House itself. With a wide variety of art and invaluable objects on display, the house is a breathtaking display of interior design and architecture. There are collections thoughout the museum from estates the world over that proffer a history spanning two millennia.

The House has a huge main kitchen, austere library, elegant banquet hall, expansive staircase, a quaint tea room, majestic sitting room, and several bedrooms and bathrooms. The rooms are exquisitely decorated and furnished with period furniture, sumptuous lighting, and hardwood floors blanketed with plush rugs.

The Gardens is replete with lush horticultural elements and statues that impress with their landscape design and integration with the surrounding environment. To the north of the Main House is the Orchidarium with a magnificent collection of vibrant orchids from various corners of the world. Visitors will enjoy the Maze Garden, the "Secret Garden", and the Stone Barge, as well.

Special Occasions, Ceremonies, and Rentals

Vizcaya is unsurpassed for tours of all kinds, self-guided activities, and guest-arranged events. Groups of adults or college groups are welcome for special pricing, but reservations are required in advance.

Visitors can choose to host daytime garden ceremonies between 9:30 a.m. and 3:00 p.m., though there are restrictions due to the fact that Vizcaya operates as a public museum during these hours.

For evening rentals, Vizcaya hosts corporate events, weddings and receptions, birthdays, and more. Guests have full use of the inner courtyard, outside terraces, and gardens. These types of events cannot be held during the day, however.

For Miami Condo & home owners, Vizcaya is a popular venue pf choice for evening balls & celebration.

Café and Shop

Open daily from 10:00 to 5:00, the Café offers sandwiches, salads, desserts, and more set in a casual atmosphere overlooking the swimming pool. The Shop is open during the same time period (or online at http://www.vizcayamuseumshop.com/index.html) and sells postcards, jewelry, Vizcaya merchandise, books, and more.

The Café and Shop accommodates small groups for breakfast or lunch during normal Museum hours. Or, visitors can stop by every Sunday for Tea for Two to enjoy tasty snacks and Vizcaya's own Tapestry tea blend.

Vizcaya Museum & Gardens is a step back in time in a setting overlooking Biscayne Bay that is unequaled. Open every day except Tuesdays, Thanksgiving Day, and Christmas Day, Vizcaya welcomes you. Visit www.vizcayamuseum.org for more information.
Miami, Florida is truly an amazing city to invest real estate properties in. The city is rich in Museums, Parks and other places of interest. Allan Kleer, a renowned Miami Beach Realtor provides value added real estate services in Miami, South Beach area. Call for an appointment, TheKleer Team is available to help.
Email this post:
< Back