Friday, August 24, 2012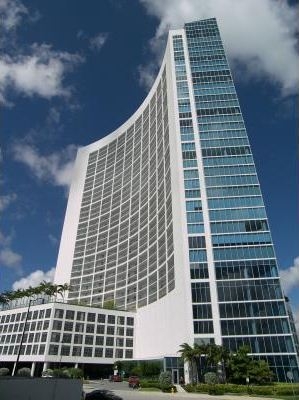 Miami's Blue Condos is located just north of the city's Performing Arts District. The condos are also no more than 10 minutes from South Beach and Downtown Miami; tenants are just a few minutes from the airport and popular retail centers like Coconut Grove as well.
The condo community is actually a luxury tower with a glass bay-front and 36 stores. The lobby is decorated in modern minimalist style, includes custom furniture, and is fully staffed around the clock. When tenants ride the elevator to their floor, they walk into a semiprivate lobby that is shared by two other units. So, no matter where in the building a tenant's condo is located, they never have to ride in a crowded elevator or walk a long hallway to get home.
Unit Amenities
Each of the condo units in the Blue community feature:
Bay and city window view -->> ocean views start on the 20th floor
9- or 18-inch ceilings, with floor-to-ceiling glass in each unit
Modern kitchens wit stainless steel appliances
Covered balconies with glass railings
Marble kitchen floors
Custom Italian cabinets
Steel-core entry doors
Built-in microwave
Self-cleaning oven and dishwasher
Refrigerator with ice maker and water dispenser
Blue Condo Attractions
As a tenant of Blue Condos, tenants can take advantage of over 60,000 square feet of recreational space. This includes:
A world-class restaurant and spa
Semi-private elevator lobbies
24-hour concierge
Massage therapy
Yoga and pilates classes
Dog walking services
Reservation services
Facials
Blue Lounge
Media and entertainment center
Furnished sundeck
Cold and heated pools
Business center and conference room, with immediate access to printers, computers, copier and fax machine.
There are also several attractions minutes away from the condo community, including the American Airlines Arena, the Olympia Theater, and the Wynnewood Arts District, which features more than 40 galleries, private art collections and studios.
Viewing Blue Condos
Blue Condos has been called the most luxurious condo community in Uptown Miami and is one of the best Miami Beach Condos market. You can be a part of this community by scheduling a tour to learn more about the property. TheKleer Team is here to help make sure that your move into the Blue Condos is as smooth and stress-free as possible. For more information on Blue Condos Miami, click here for a personal consultation with Allan Kleer.
Email this post:
< Back